Good Morning out there in digi-land.
Amanda here, bringing you a little Out of the Box inspiration. I am a theme scrapper, which just happens to be one of my favorite things about Heather's designs. I am also on a limited budget, so I really like to get the most bang for my buck and stretch those themed kits out & use them on some non-themed layouts as well.
Here is your inspiration for August.
Life's A Circus, a wonderful, circus themed kit, lovely bright colors, lots of fun….you could use it to document your trip to the circus, petting zoo or fair…… or……
…..you could use it to document some fun at home, where you feel like you might sometimes live at the circus, or maybe just your crazy friends like LivingOutLoud did in this page.
Under the Boardwalk, bright, beachy and makes me want to take a trip to see the sea. You could use it for those sorts of pages….. or…..
….you could use it to document just about anything else about summer, including, your beautifully painted toenails like Leotine78 did with this page.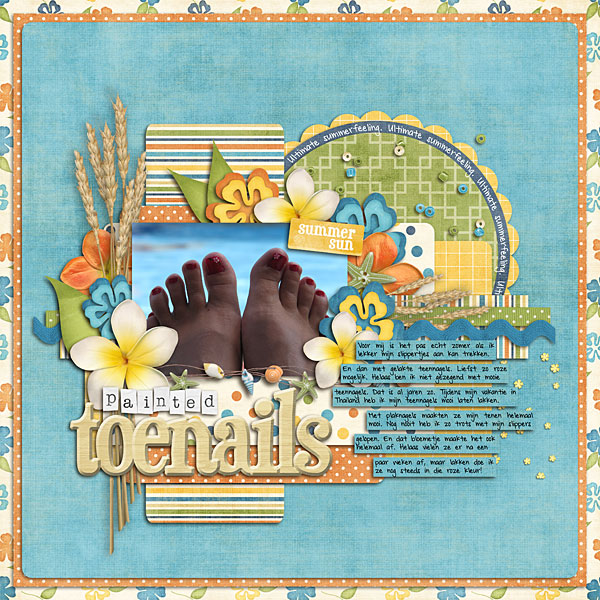 Let's take a look at Home Grown, this amazing, brightly colored kit, full of veggies & a farmers market feel. Of course you could use it for any of those things, or you could use it to document………
….your little "Sweet Pea" like kim21673 did in this LO.
Next up is Brand New Day, bright, colorful, a little bit of an office theme to it, with sticky notes & all those little doo-dads you might find on your desk.  Not quite as themed as some of the showcased kits, but you could take it out of the box & make a little something else with it…. like….
this little something from Heather herself.
And lastly, I've got a little something with Amber Waves, clearly a patriotic, red, white & blue kit. You could document just about anything you love about living in the red, white & blue, or…..
…use it to compliment the colors in a photo that is completely unrelated and come up with something like this, one of my own layouts.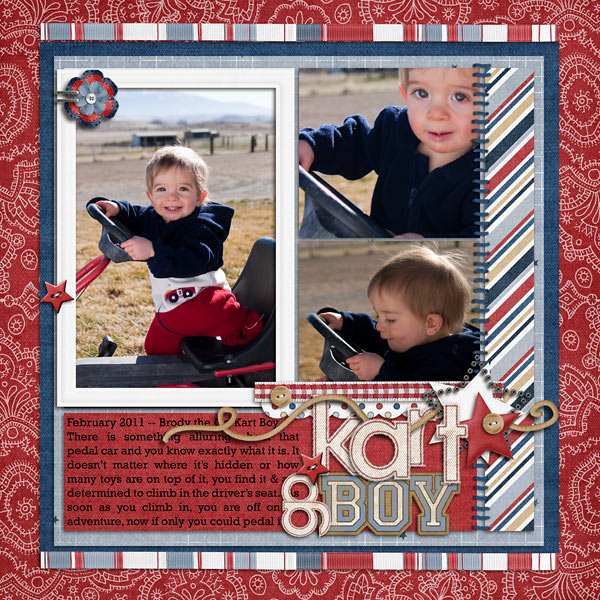 I hope you've gotten a little peek "Out of the Box" & will use this inspiration to scrap with a themed kit, even if your LO isn't really about the theme at all.